Bits of info
Edit
yo4you (usually refered to as "Yo") is some charmanderly dude that builds some things. He can usually be found online in the afternoon (CET time-zone). Joined the server summer-2012.
Currently resides in: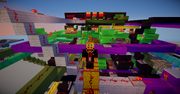 Icy Wonderland

Second world Communities:
Techgalxy, Geekville, Capriccio, Westridge and The Dutch Kingdom.
Some things he did:
Summer buid, Wuhu Island (co-build leader with Goodhardlife)
Tech & Capri Games (Person in charge)
Ad blocker interference detected!
Wikia is a free-to-use site that makes money from advertising. We have a modified experience for viewers using ad blockers

Wikia is not accessible if you've made further modifications. Remove the custom ad blocker rule(s) and the page will load as expected.