Segwo (pronounced Sedge-wo) is a member of the Minecraft Awesome Community. He is one of the six founding members of the edge. He is one of the most beloved and humorous members of The Edge .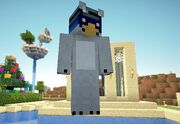 Segwo was elected Mayor of the Edge in June 2012 and was re-elected to a second term in October 2012. He was succeeded in office by Acevil in February 2013. Acevil named Segwo to be his Deputy Mayor, continuing his time in the government of The Edge.
Segwo's creations in the Edge include his humble home, which he shares with his Minecraft wife Merme87, Bowser's castle, an Igloo and The Myd (short for pyramid) with ET in a snow globe on the top. The Myd was also Segwo's first build in The Edge.
Segwo was part of build team that created Cloudsdale for the Sky build challenge. The build was created and led by Sailor_MoonXD and featured many individuals of the Edge helping.
Segwo also helped with the Aquatic Center in the Minecraft Olympics, which was really well received by Fraser and the crew.
In Minecraft Olympics itself, Segwo was one of the most decorated athletes. He received two diamond medals, one for Relay and one for Basketball . He also received a gold medal in the Gauntlet . Other then that, he took part in the joke events at Olympics, the events with no real winner, the only purpose being trolling Fraser .
Builds aside, Segwo is known for so much more. One of these things, is the fact that whenever anyone mentions Segwo, he has to respond with "I'm Segwo". This has resulted in many users on the server saying "I'm Segwo", including Becky, as can be seen in the Sky Build episode . However, be careful when saying "I'm Segwo" in front of him, he might release the "swage" (Trademark pending).
Because of the love of the people of The Edge have for Segwo, they voted amongst themselves to use "Edgewo" as the demonym for the community.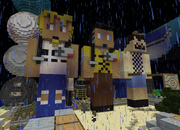 Segwo is also known for making skins for other people. He has made many skins, such as the AVG skins, which have been made into giant statues in The Edge . He also makes most of Neoetm12's skins and has now expanded to making other members of the Edge their skins, such as Sailor_MoonXD's bunny suit skin.
Segwo as mayor of the Edge also introduced themed days.
Mining Monday

T.E.S.L.A (Short for The Edge Storage and Lending Association) Tuesday

Work-on-Edge Wednesday

Draw-My-Thing Thursday

Film Friday (Film Friday was actually brought to you by Hamilton6787 ).

Schnockered Saturday (Will often end in actual drunken Saturday)

Civilization V Sunday
Segwo is also married to the wonderful Merme87 , and they had a beautiful, non-explosive wedding in The Edge on May 20, 2012. The lovely event was filmed by EnterMEUN and can be seen here: http://www.youtube.com/watch?v=p5zOARnSU1c