Saul Village

Saull Village

Status

Open

Established

Leaders

Location

Portal

Theme

Village / Town

Members

Forum Thread

While Saull Village is an Open community, some members (and leaders) seem to be inactive at the moment. Finding out where to build may be difficult due to this, so discuss it with Grimjim666 if you would like to join this community and he can help you out.
This message will be updated if more information becomes available.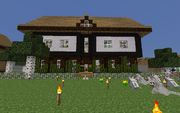 Ad blocker interference detected!
Wikia is a free-to-use site that makes money from advertising. We have a modified experience for viewers using ad blockers

Wikia is not accessible if you've made further modifications. Remove the custom ad blocker rule(s) and the page will load as expected.