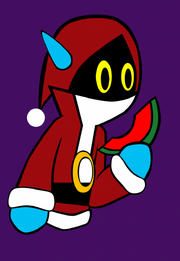 misterdarren has been a member of the VGA community since November, 2011.
He is a member of Shiro and The Edge.
He appears on the server primarily as Orko from He-Man and the Masters of the Universe. He has appeared in several variations of the Orko costume, including Santa Orko, Hawaiian Orko, and Orko Mario.
He is grateful to have been able to contribute to build challenges, and to have met so many awesome people on the server. Some of his more notable creations include: The Kraken in Noredge , The Cyclone in Summer Vacation, Rainbow Road in Nintendoland, and the gold medal winning Cake House in the Olympics.
He likes making cakes, cookies and roller coasters ~ wheeeeee!
Ad blocker interference detected!
Wikia is a free-to-use site that makes money from advertising. We have a modified experience for viewers using ad blockers

Wikia is not accessible if you've made further modifications. Remove the custom ad blocker rule(s) and the page will load as expected.