Fond3ll. Wearing the official Dr. Insano minecraft skin and a TURBO member of VGA since 2010.
A member of the Tortuga Minecraft community on the VGA server. Currently in the process of starting up New Tortuga on the 3rd rendition of the Minecraft server world.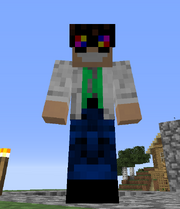 Ad blocker interference detected!
Wikia is a free-to-use site that makes money from advertising. We have a modified experience for viewers using ad blockers

Wikia is not accessible if you've made further modifications. Remove the custom ad blocker rule(s) and the page will load as expected.